10 Yummy Treats You Can Give To Your Dog This Summer!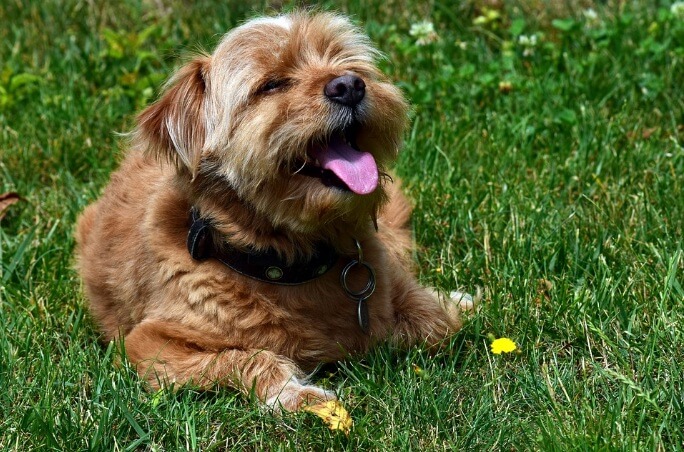 |
Summer is here! And, you know what that means! Sunbathing, beach and pool parties, outdoor activities and even yummy treats to quench our thirst this hot season are so in. For dog owners, let us not forget that our canine buddies need as much cooling down as we do.
And because of that very reason, we have gathered some of the yummiest treats you can give to your pets this season! Are you ready?? Let's go!
Peanut Butter and Jam Freezie
For this yummy treat, all you need is peanut butter safe for dogs, water, strawberries, blender and ice tray or molds!
First, blend strawberries and a little bit of water. Once blended, pour mixture into an ice tray or any of your preferred mold and place it in the freezer. Once frozen, spread a bit of peanut butter on top and serve to your furry friend.
Soft-serve Yogurt and Toppings
This summer, one of the easiest treats you and your pooch can share! All you need is low-fat plain yogurt and toppings of your choice. You can add fruits, peanut butter or just about anything that is safe for dogs to eat.
Put all ingredients into blender and mix. Place mixture into a bowl and freeze until the consistency is semi-hard. Serve to your favorite dog by placing some on his food bowl, or you can hide it inside your canine friend's stuff-able treats toy.
Frosty Watermelon
If there is one fruit that symbolizes summer, it would be none other than watermelons! So, why not give this sweet fruit to your dog?
To make a delicious frosty watermelon treat, scoop out watermelons and make sure there are no seeds. Make a puree using a blender.
Add coconut water or milk and blend. You can also add honey if you have some. Pour mixture on ice cube trays or cute molds and freeze overnight. You can now serve frosty watermelon to your doggo.
Blueberry Slushies
This is a super easy cooling treat for dogs! All you need are 1 cup of blueberries, 1 cup ice cubes, and a blender.
Place all ingredients in a blender and blend until smooth. Serve to your pup by placing some on his dog bowl or inside one of his favorite plastic chew toys where you can put treats inside.
Frozen Apple Dog Treats
For this snack, all you need are apples and low-fat yogurt. Slice apples into two and remove the core and seeds. Put apples into a blender together with low-fat plain Greek yogurt and a splash of water. Once fully blended, pour mixture into a mold, freeze and serve.
Frosty Paws
Another treat that even little kids would love re these yummy frosty paws! All you need is 32 oz of nonfat plain yogurt, 2 teaspoons of peanut butter, 2 teaspoons of honey and 1 banana.
Mix all ingredients into a blender until all are well-blended. Use molds of your choice are it an ice tray, silicone mold or small paper cups and pour in mixture. Freeze the treats and serve, Make sure to put them on a storage and label them if you make many!
Bahama Mama
As cute as it sounds, this treat is one your dog will surely like! All you need are 1 cup of granola, 1 cup unsweetened shredded coconut, 1/2 cup peanut butter and half cup pineapple.
Make sure your granola has no raisins. Mix dry ingredients first then add wet ingredients until well-incorporated. Form mixture into small logs – small enough that you can insert this on your dog's favorite chew toy. If not, you can make any shape you like or just use a mold.
Freeze for a few hours and serve. Insert one inside your dog's chew treats if applicable. The great things about it are you can store this yummy goodness for up to six months.
Frozen Peanut Butter Banana Pops
If you have 4 oz of banana baby food, 3 6 oz containers of low-fat plain yogurt, 1/2 cup of low-sodium peanut butter and 1 tablespoon of honey, then you can easily whip this recipe up.
Just blend all of your ingredients and pour into small paper cups. Add a dog bone on each cup that will act as the stick. Freeze overnight. Peel away from the container and serve.
Carrot Pupsicles
Most dogs love carrots, and if your pooch is one of them, then this recipe is for you! grab a silicone mold or ice cube tray and fill half of it with water. Fill the remaining space with low-sodium broth.
Place a baby carrot on each mixture and it will serve as the pupsicle's handle. Freeze, peel away and enjoy.
Frozen Dinner
Another easy way of making a cool treat is by feeding it with a frozen kibble. You just need water or low-sodium broth if you have some and his favorite kibble.
Soak half of the kibble on water or broth. Once it absorbs enough broth or water, stuff into a freezable treat toy and freeze overnight. You can then serve this to your pup.
There you have it! All 10 yummy treats won't take up much of your time to make, and the best thing is, your dog would love you more for the super yummy treats. You can also enjoy some of these treats, except the one with kibbles of course. Try them out now and see which ones your dog would love best!
References:
The Dog People, Puppy Leaks, I Heart Dogs
Subscribe To Our Mailing List Today