These Huge But Loveable Creatures Protect Their Families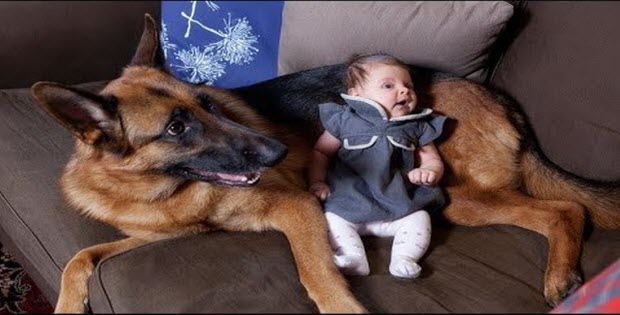 German shepherd dogs are one large breed that can be scary if you are unfamiliar with how loveable they can be to their family members.
They are one of the gentlest of giants to all creatures, but babies really get their love and affection. When they are in with families,- they become protective of these babies. In this cute compilation video, these German Shepherds show why they make amazing family dogs.
Kissable Babies
The littlest of babies become one of the most kissable, or in the case of German Shepherds, lickable. One little girl baby was lying on the bed when her friendly companion, decided to give her a big kiss across her face.
Another little boy was sitting on the couch and couldn't get away from the lick attack at the hands of his German shepherd.
Partners in Crime
A German shepherd and a little girl sat together both, ripping up magazine papers. The baby was all smiles and giggles as the two became partners in crime.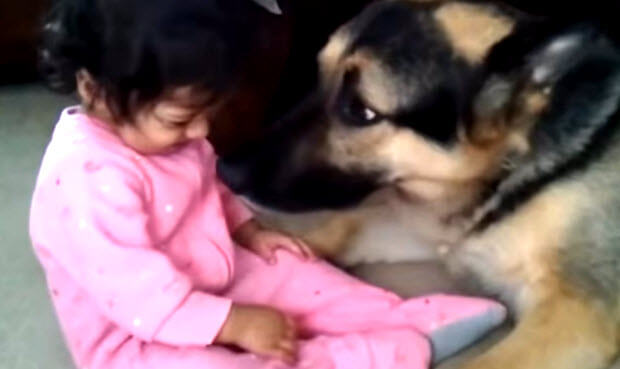 Bedtime Playtime
Another German shepherd wakes up a little boy in the morning by pulling the covers off of him, even after his furry sibling's object.
Another little girl rolls over to discover one of the comfiest and fluffiest pillows anyone has ever used. Her German shepherd dog just lies still while the little one enjoys using her as a pillow.
A little boy is all giggles when his doggie friend rolls around on the bed in front of him.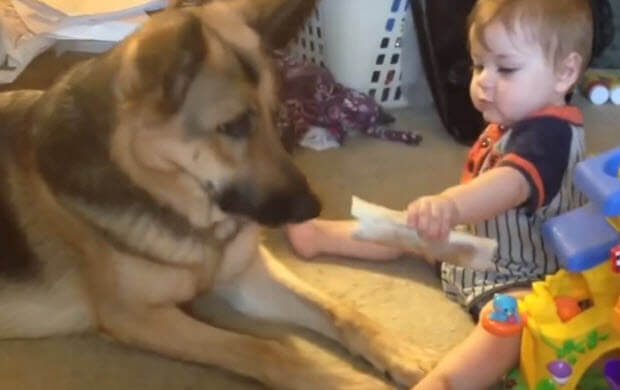 Playtime
A little boy playfully gives his German shepherd a treat by giving him his bone.
Another little girl plays catch with her dog friend by offering her a tennis ball, which she promptly holds in her mouth.
Another little boy gives his doggie friend a rawhide bone to play with. But then he decides it looks to good and gives it a taste for him.
Click to the next page to read more and to watch this awesome German Shepherd Video…
Subscribe To Our Mailing List Today