This Dog Is Just Awesome With His Favorite Ball Thrower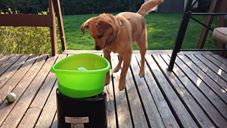 This pooch seems to enjoy his ball thrower very much.
He got his game figured out, and he is catching balls now in mid air. Which is very impressive given that he is bringing them back and putting them into the machine. Very cool exercise for this cute little guy! Enjoy the video and check out the link we have included. This is where you can get a similar machine. Enjoy and please share!
Would you like one for your dog ? Here is a very good ball thrower with built in safety feature!
Subscribe To Our Mailing List Today
Subscribe To Our Mailing List Today