Nobody Expected 3 Stray Dogs To Do This. What They Did When A Suicide Bomber Approached Is Unimaginable!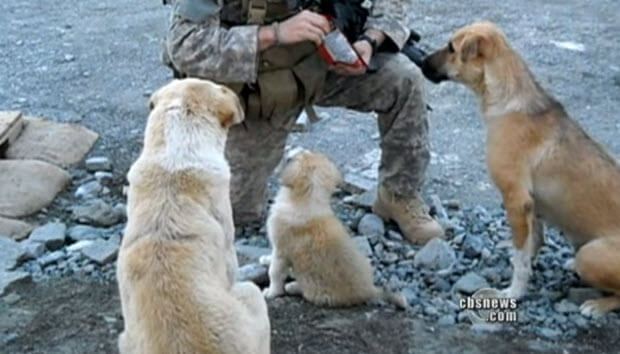 After much thought, Sgt. Duke decided to write a letter to a Veterans Assistance Group called "Hope for the Warrior". In his letter, he explained how he would not be alive if it had not been for Target and Rufus and although Sasha did not survive, he felt that it was only right that Target, Sasha, and Rufus be brought to the States so that he could give them a loving and proper home. Hope for a Warrior said in an interview that they have never received a wish like this. Other organizations also heard about the story and started a Facebook group for the cause raising $21,000- enough to bring the dogs all the way from Afghanistan to the States.
In his letter he wrote, "I owe my life to those dogs and my wish is to bring them home and give them the best life I can". Hope for the Warrior was so moved by his story that they did in fact, bring Target and Rufus home. The end of the clip by CBS News shows Sgt. Duke being reunited with the two and the look of relief on his face seeing that both of them were safe is truly heartwarming.
Subscribe To Our Mailing List Today
You will also enjoy:
Subscribe To Our Mailing List Today