What Happens When 35 Great Danes Come Out To Play In The Snow ? Watch To Find Out Now!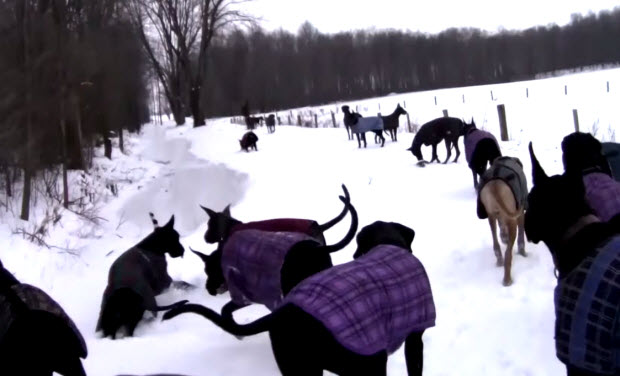 It Takes A Village…
If you have ever tried to watch multiple children at one time or walk multiple dogs at one time, then you know it comes with many joys and also many challenges. When you, as a human, only have two hands and you are responsible for caring for multiple other lives it can truly be a little bit intimidating- even a little bit scary. If you own multiple animals then you know the importance of having help when it comes to taking care of all of them.
They say that "it takes a village to raise a village" and that has never been more true than it has for a woman and the 35 Great Danes she took for a walk in the snow. That's right- try to imagine it: 35 Great Danes all together at once walking through the snow. Thankfully, the owner got it on video for our viewing pleasure and complete amazement.
Most of the Great Danes are darker colors, which really helps to see them as they run through the snow. Many of them have snow jackets on, which almost doesn't seem to matter because they are rolling around in the snow as playful as can be. There are all kinds of Great Dane's rolling through the snowy hills and jumping into the snowy banks. They seem to love every moment.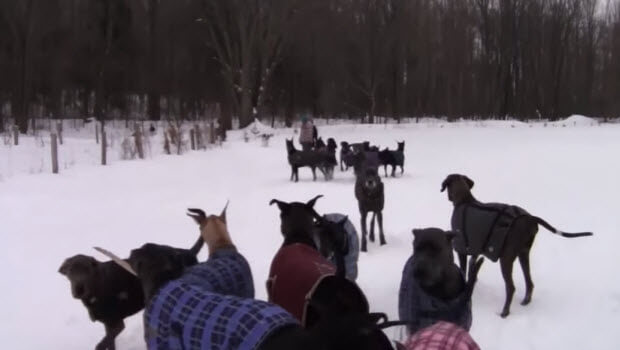 Subscribe To Our Mailing List Today