Broken-Hearted Dog Surrendered To Shelter And His Video Will Break Yours Too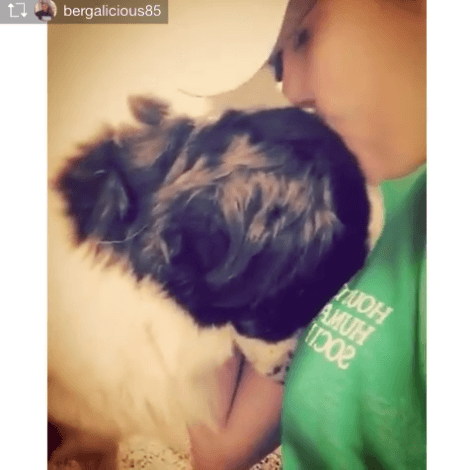 |
"Ever wonder what a broken heart looks like? Well, there you have it. " These are the caption written by Randi Bertholet on a post that went viral overnight. She has been working as a volunteer at the Houston Humane Society for seven years now. According to her, never has she ever seen such a broken-hearted dog. Not until she crossed paths with Hunter.
Hunter is a 6-year-old Border Collie Mix. He was recently surrendered to the shelter because of a reason I knew everyone would find absurd. The reason for his owners surrendered him was because Hunter "could not get along with their new puppy."
That's right. Just because the two new siblings were having a hard time adjust around each other, they chose to leave him behind the shelter.
Hunter is a smart dog. He may not have been briefed about the reason why his owners are leaving him. But sure enough, he seemed to figure out why, and he just shut himself from the world – choosing to sit on the far side of this cage at the shelter. He's been afraid ever since.
When Bertholet came to check on Hunter, she couldn't even find the poor abandoned dog at first glance. It was only when she saw him sitting on the far corner of his kennel did her heart ached on the sight.
Bertholet saw a broken hearted dog – too afraid to move or make a sound. It was as if he was trying to make himself look invisible. And to Bertholet, the reaction was understandable. He just lost his parents and a home he thought would be his, forever.
What Bertholet did to comfort Hunter was to sit beside his kennel, with her back facing Hunter. A few minutes after Hunter realized she meant no harm, he slowly opened up and walked towards Bertholet. This the moment a heart-wrenching scene unfolded.
Click on the next page to watch what happens next!
Hunter went face to face with Bertholet, and his heart broke in pieces. Bertholet was able to capture the moment when Hunter would put his head on Bertholet as if seeking comfort. His puppy eyes were glossy, and the way he looks at you would make you feel a fracftion of what he was currently feeling.
Watch the heart-breaking video of Hunter below.
Bertholet was dumb-founded but was able to capture the moment in the video. She went home that night, still thinking about Hunter. She says she cried herself to sleep because she was hurting for the poor and broken-hearted dog.
The post went viral, and many showed support and interest in taking Hunter in. Many applied to be his owner, but Hunter wasn't ready to meet anyone yet.
Click on the next page to see the ending.
Subscribe To Our Mailing List Today