Here Are Just Some Of The Reasons Why Your Dog Will Go Bonkers Over These…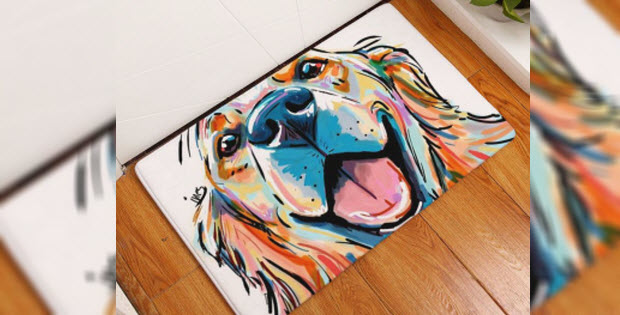 |
These Mats Just Look Amazing…
Floor mats these days are no longer limited to plain colors. Nowadays, they come in different colors, sizes, shapes, and designs. The best floor mats offer many benefits. With so many choices popping out these days, choosing the right one for your home could be both exciting and frustrating.
Before buying any floor mat, one must consider if the characteristics or features of the mat matches your needs. Do you need one for your bath or kitchen? Then you'll need a water-absorbent mat for these areas of your home. Do you want one that looks great? Then go for decorative mats. Do want one on your bedroom, bathroom or to put at the foot or a side of your bed, that feels great when you step on it. Then these floor mats are for you.
If you're one of those shoppers who would rather shop online than walk hours and hours in different shops and stores, then you know the perks that come with online shopping. However, it also has its cons. If you've tried a couple of stores that only sell online – some will exceed your expectations, some not so much, and the others, not even worth mentioning. Dogblabshop will meet and exceed those expectations. Please keep on reading.
If you're shopping online for floor mats, are seriously considering on buying either DogBlabShop's Dog Printed Oil Painting Anti-slip Floor Mats or Modern Dogs Anti-slip Floor Mats (Customizable), then you have to read this first.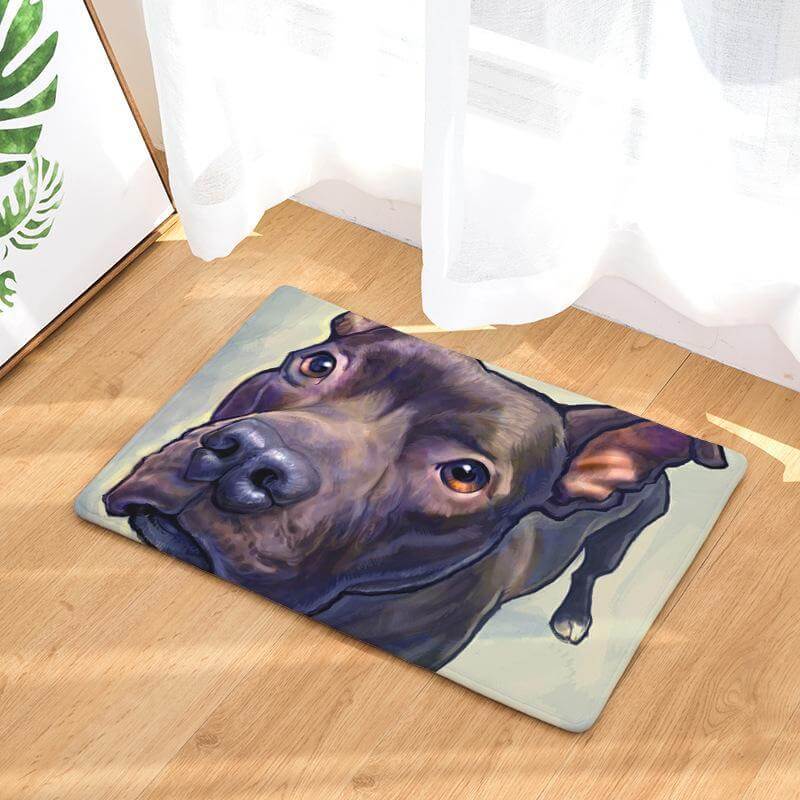 Learn More Here: These DOG PRINTED OIL PAINTING ANTI-SLIP FLOOR MATS are a must-have in every home!
So, if you're on DogBlabShop, chances are you are a dog lover and or owner. If you had the chance to see their collection of floor mats, chances are you'll want more than one mat. The Dog Printed Oil Painting Anti-slip Floor Mats and the Modern Dogs Anti-slip Floor Mats (Customizable), being one of the shop's best-seller, are currently at their prime.
Let's talk about the first one – the Dog Printed Oil Painting Anti-slip Floor Mats. The name suits the mats as these are indeed as beautiful as an oil painting. The mat comes in two sizes – 50 cm x 80 cm and 40 cm x 60. Depending on your needs, you have two choices to choose from.
Next, the description says these are and I quote "anti-slip, durable, water-absorbent, wrinkle-resistant and not to mention, very easy on the eyes." These are features anyone would want for floor mats. If it is durable, it can last for a very long it and is not easily damaged or does not easily break. It absorbs water but has a non-slip design at the back which makes it a great mat for homes that have children, seniors and the like. The wrinkle-resistant is also a good feature. You can just shake it off or wash it and it will be as good as new.
This mat is also soft to touch, so you can be assured that your feet will feel right at home once they step on this beautiful mat. The best thing about it? It comes in different variants.
Check out the beautiful variants of the Dog Printed Oil Painting Anti-slip Floor Mats
Choose between many doggy designs listed below:
Pitbulls – White, Black, Dark Brown with White
Chihuahuas
ShihTzu
Rhodesian Ridgeback
Red and white American Staffordshire Bull Terrier
West Highland White Terrier
Great Pyrenees Cross Saint Bernard
Black and White German Shepherd
Airedale Terrier
Black Mouth Cur
Old English Bulldog
Chesapeake Bay\Labrador Retriever
You can use it many areas of your home. Put it on the side or foot of your bed and have something soft to step on to instead of the cold floor once you wake up. Put it right outside your bedroom, living room, kitchen and office door. Put it on a corner and use that as a mat for your dog's food and water bowl. The possibilities are just endless.
Customers have sent in their reviews and it received lots of praises. Some even sent pictures along with their reviews.
The downside? It comes with a price but at an affordable one. Also, you'll have to wait for your order to arrive before you can check it out and use it. But isn't all online products like that?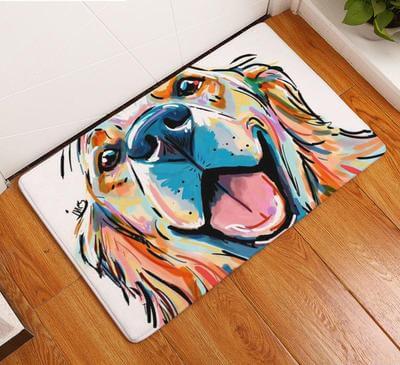 Get More Infor Here: You have got to see the CUSTOMIZABLE MODERN DOGS ANTI-SLIP FLOOR MATS
As for the MODERN DOGS ANTI-SLIP FLOOR MATS (CUSTOMIZABLE), it is definitely an eye-catcher. Why? The first picture in the product page is just mesmerizing. At first glance, you can already tell it was 3d printed. The colors are alive and vibrant, and the design is just gorgeous. They claim it is customizable, so it's definitely a plus. If you have a favorite picture of your dog, you can order this mat, send the high-resolution image and wait for your parcel to arrive.
These mats are also crease-resistant, are anti-slip and as durable and absorbent as the Dog Printed Oil Painting Anti-slip Floor Mats. The price is also a delight as it is currently on sale. It comes in two sizes. Like the first mat, it comes in sizes 50 cm x 80 cm and 40 cm x 60 cm.
Another great thing about the MODERN DOGS ANTI-SLIP FLOOR MATS is that they come in many dog designs you will surely fall in love with. Instead of having one custom-made with your dog's image, choose from the following designs
Labrador
Papillon
Poodle
American Bully
Toy Poodle
Malteses
Old English Sheep Dog
Dachshunds
Boston Terrier
American Bulldog
Shih Tzus
Bulldog
Basset Hound
Schnauzer
Border Collie
Chihuahua
Pitbull
Red and White American Staffordshire Terrier
Black and White German Shepherd
Black Mouth Cur
Happy Pitbull
Click Here to See all the options that this MODERN DOGS ANTI-SLIP FLOOR MATS (CUSTOMIZABLE) come in
Like the first mat, you have to pay the price before you can have one of these gorgeous floor mats and wait for your order to arrive before you can scrutinize and judge your purchase. Want to see the silver lining? All reviews this mat received are 5 stars.
These mats would be great decorative mats you can put where guests can easily spot them. Place them by your living door so it will be the first they see upon entering your house. Place it in your child's room and you'll definitely have a happy child. Get one for your bathroom door and kitchen, or use it as a mat where you can display your favorite dog collections. Your imagination is only the limit.
Both mats can be considered affordable. Quality-wise, both are made of high-quality materials, and when it comes to the design, you cannot deny how beautiful they are.
In conclusion, both floor mats are worth it. It's no wonder why they both have great reviews and are one of the best sellers of DogBlabShop. They are priced well considering their quality and overall look and style. Both mats are of high-quality – from the design to the features. Are they worth buying? Yes. Are they good enough to send as gifts for any occasion? Definitely.
Click Here to See all the options that this MODERN DOGS ANTI-SLIP FLOOR MATS (CUSTOMIZABLE) have to offer
Subscribe To Our Mailing List Today