When This Famous Football Player Walked Into An Animal Shelter And Asked For A Dog Nobody Wanted They Couldn't Believe Their Ears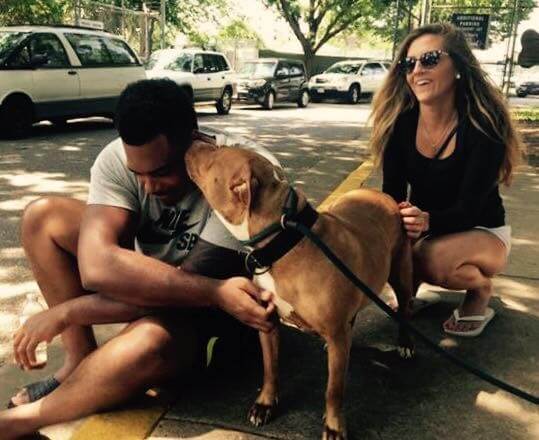 |
As time passed by, a miracle happened.
Winter spent not even a month in the shelter when Ronnie Stanley, a member of the Baltimore Ravens football team, visited the shelter and fell in love with Winter. Ronnie walked in stating that he is looking for a dog that is out of luck, which does not have the best chances to get adopted.
That was when Winter caught Ronnie's eyes. Winter, caught up in a never-ending love outburst, licked the face of Ronnie, who stated in his Facebook post, that her outlook does not bother him.
Ever since Winter found herself a new, loving home and a caring family. Thankfully, there was a way out from that terrible place and even from the everlasting loneliness at the shelter. There is also a surprise for Winter, as Ronnie will introduce her to a new sibling, called Rocky, another puppy living with them. The story of Ronnie and Winter deeply touched the employees of the shelter, pointing it out, that such events where people are brave enough to show their love for an "imperfectly perfect dog" are not only miracles but something that makes adoption even cooler.
In case you would like to help in one of these cases of loneliness, don't be afraid to adopt your next dog.
You can read the full story this review is based on here.
Here is another very touching story.
Please watch the video to understand.

Subscribe To Our Mailing List Today
Subscribe To Our Mailing List Today