Woman Has Found Injured Dog On Her Lawn What Happens Next Is Unbelievably Touching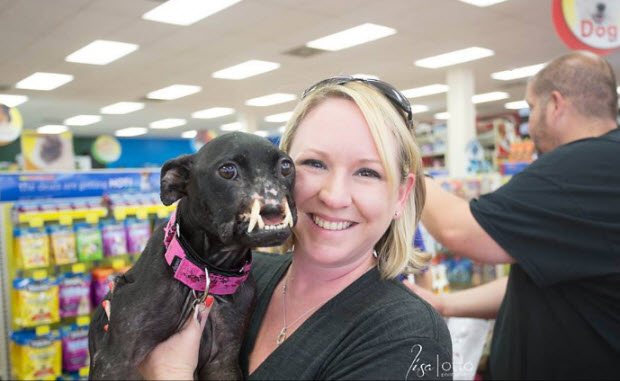 |
Despite all the physical challenges and discomfort, Khalessi is one of the liveliest dogs you would ever come across. She is certainly one of the most vibrant pit bulls you would meet. Such a dog who is sociable, affectionate and a joy to have around deserves the life that every dog wants and should get. Fortunately, Khalessi is on her way to get that life.
She has been adopted by Stephanie Paquin, who is the Founder and Director of Passion 4 Pits. She Mike Fleury, her husband, visited the Orange County Shelter to adopt a dog when they were introduced to Khalessi. Both Stephanie and Mike were overwhelmed by the condition of the pitty despite being forewarned. True to their spirit and conviction, Stephanie and Mike decided to take Khalessi home.
They did not stop there. They launched a project to raise funds to pay for the surgeries that Khalessi needs. Surgeries to reconstruct the nasal cavity and part of the upper jaw along with other procedures are quite costly and they are trying to raise the money with the help of Orange County Shelter, friends, volunteers and online supporters. During the treatments, Khalessi is staying with Stephanie and other foster homes in the area.
This is a short review of a great story, you can read the full story at: iheartdogs.
Image source: khalessi / facebook
Subscribe To Our Mailing List Today
Subscribe To Our Mailing List Today