Here Are Some of the Hottest Vinyl Record Wall Clocks in the Internet and Why Many Are Lining Up for Them!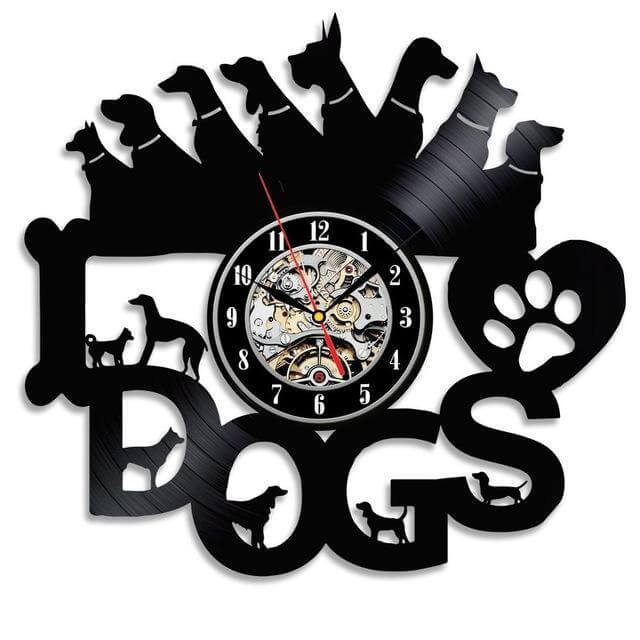 |
These Vinyl Record Wall Clocks are the bomb!
We all know what the importance of time is. Wall Clocks are a great way to tell time, which is why every home and building has them. while they are functional indeed, many designs, colors, shapes and sizes have emerged, just like the awesome

clocks

we are about to show you. Can be found at the DogBlabShop, this is a new take on old and boring wall clocks.

Cute. Vintage. One of a kind. These three words are what best describes these wall clocks. These are not the typical wall clocks you can find just about anywhere. These are unique clocks made of high-quality vinyl record disks that are laser-engraved into perfection to get that amazing design of different animals like dogs, cats, wolf, owl and horse making them extra special. It is not every day that you can come across such wall clock.

PROS
Unique, creative and retro design

Decorative

Lots of designs to choose from

High-quality

Durable
CONS
Battery not included

Middle design of the clock is just a sticker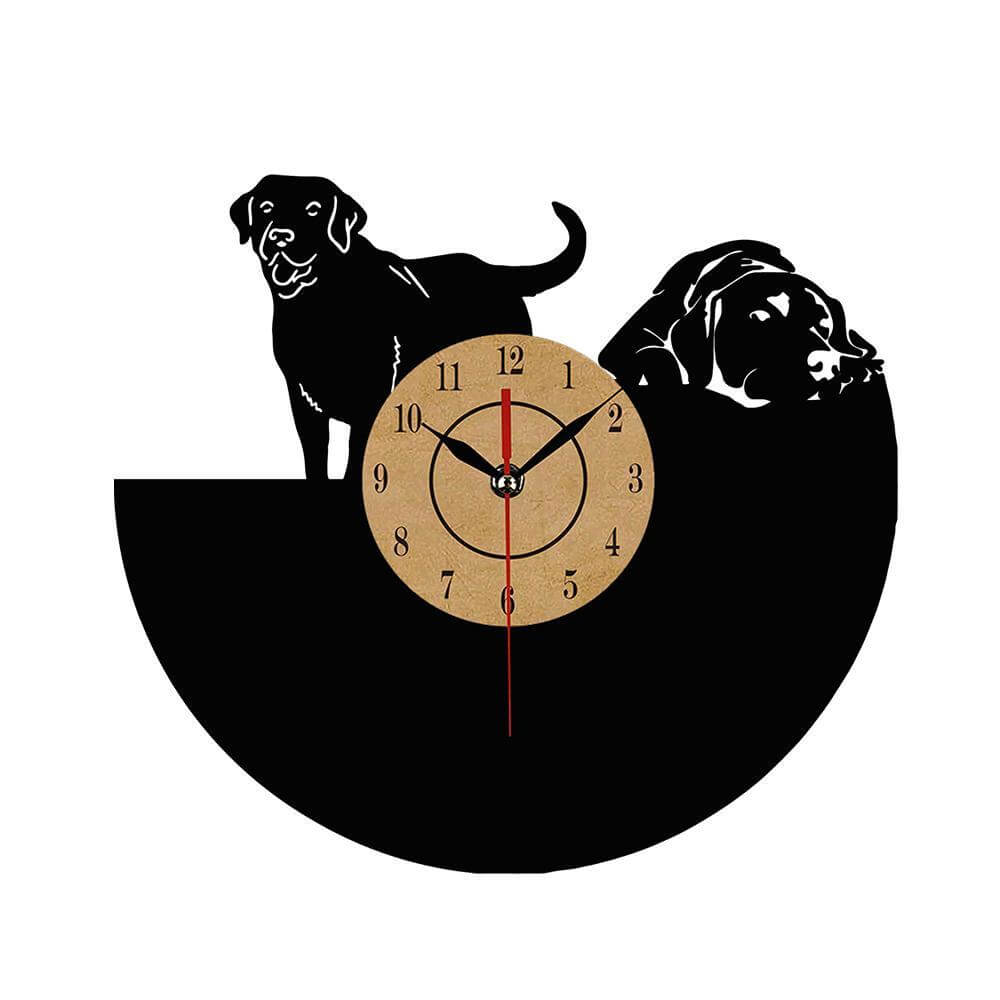 Check out all the other amazing designs these DOG VINYL RECORD WALL CLOCK have!
Let us talk about the first one, the DOG VINYL RECORD WALL CLOCK. This is actually a collection made up of four designs – each having a different pair of dog breeds. One can choose among a pair of Labradors, Labrador Retrievers, German Shepherd and French Bulldog. Thanks to laser engraving, the dogs came to life and the clock really captured the essence of each breed.
The hour and minute hand of the quartz clock are black in color while the second hand is in red. The dial is in gold color giving it a vintage and trendy vibe. The great thing about this clock is you are given four choices of breeds to choose from and the way it is designed makes it stand out among a crowd of other wall clocks.
Next, the Scottish Terrier Vinyl Wall Clock. Much like the first one, the design featuring the silhouette of a Scottish Terrier facing right was laser-engraved for that perfect cut. One can easily read the time thanks to dial's design. It's actually a sticker that features the gears and all of the clock movements. The minute and hour hands of the clock are in black while the second hand is in red. The contrast between black, red, and white makes time-reading easy as pie. The design is really beautiful – but what makes this clock awesome is the sticker dial. It may just be a sticker but looks really great nevertheless.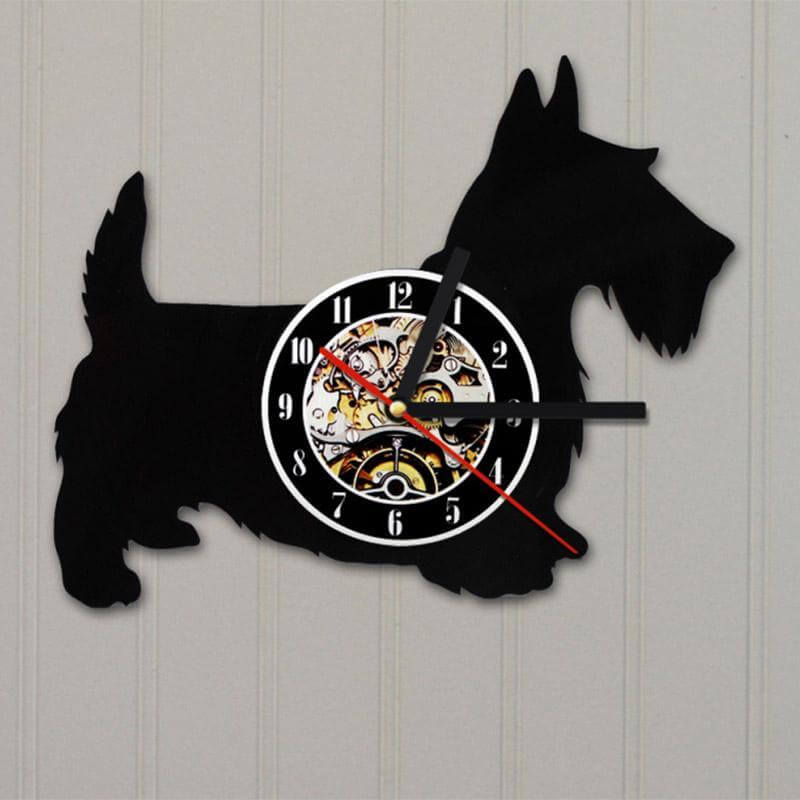 More info here for the SCOTTISH TERRIER VINYL RECORD WALL CLOCK!
Last but definitely not the least is the Animals Vinyl Record Wall Clock. By far, this collection is crowd's favorite, mainly because it has a wide range of designs to choose from.
One has "Dogs" laser engraved on the lower portion of the clock, with one dog on each letter. Eight dogs little the top of the clock while the paw and bone

is

on either side of the clock.

One is an image of a wolf or Siberian Husky and a quarter moon

A pug angel complete with a halo, wings

and

pawprints

On has the silhouette of a single cat

Another has two cats sitting side by side

The head of a majestic horse

And a wise owl looking straight to your soul
Like the Scottish Terrier Vinyl Record Wall Clock, it has the same sticker dial of gears, black minute and hour hands as well as a red second hand. The whole look is well put together, making it a stunning an one of a kind piece.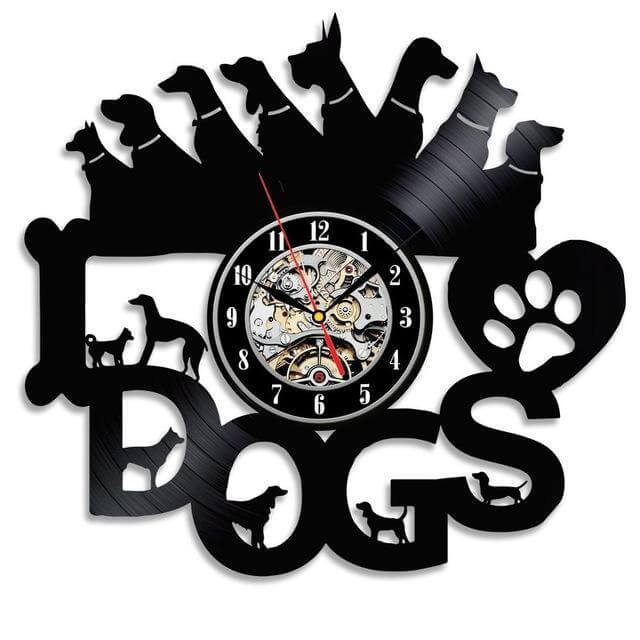 SEE IT HERE! All the cool variants of the ANIMALS VINYL RECORD WALL CLOCKS you'll surely love!
All three vinyl record wall clocks prove to be an excellent wall clock both in style, quality and design. Each has its own unique design and vintage vibe thanks to the vinyl record. These are a creative, fun and unique piece that can transform your old and boring walls.
The only downside is that batter is not included and the sticker dials. Nevertheless, you get a working, durable and decorative wall clock with a vintage vibe. It would look awesome in any room – living room, bedroom, kitchen, and especially if you have a music room. The price is okay for the quality you get, and it makes as an awesome gift idea for anyone who loves dogs and vintage items.
Check All of these incredible Vinyl Wall Clocks here!
Subscribe To Our Mailing List Today